In a statement released by Nigerian singer, David Adeleke, alias Davido. He has revealed that he has completed the disbursement of N250,000,000 to 292 orphanage as promised
Davido has released a statement on the 1st of November, 2021, where he announced his intentions of donating the total sum of N200 million received from friends and foamily, together with his own N50 million to Orphanage across Nigeria.
He has also listed and made available the names and amount, disbursed to various Orphanage homes
Find below a copy of his statement and the list of names of the various orphanage home  released today, confirming the disbursement of N250 million to 292 Orphanage homes.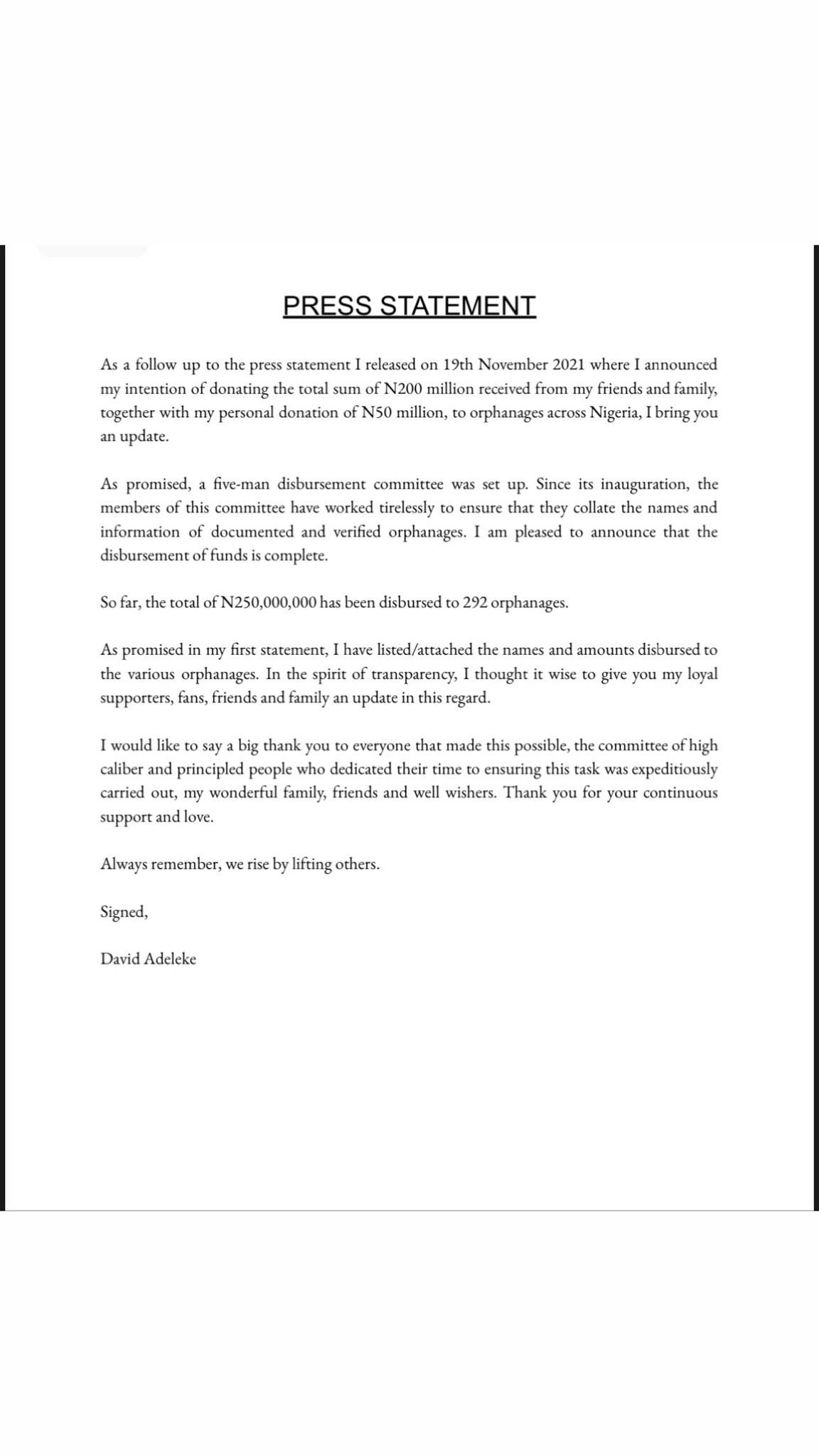 RIVERS YOBE LAGOS (PAROCHE FOUNDATION) pic.twitter.com/1obY2IhAsF

— Davido (@davido) February 15, 2022
OYO PLATEAU pic.twitter.com/qa0YhYfbwR

— Davido (@davido) February 15, 2022
NASARAWA NIGER OGUN ONDO OSUN pic.twitter.com/W99Zz3MQFb

— Davido (@davido) February 15, 2022
LAGOS pic.twitter.com/ZZJdHD0dB4

— Davido (@davido) February 15, 2022
IMO KADUNA KWARA pic.twitter.com/jZlCSNGBfJ

— Davido (@davido) February 15, 2022
EDO EKITI ENUGU GOMBE pic.twitter.com/QbKmdLRZim

— Davido (@davido) February 15, 2022
BAUCHI BAYELSA BENUE CROSS RIVER DELTA EBONYI pic.twitter.com/njPFxdc7Lc

— Davido (@davido) February 15, 2022
ADAMAWA AKWA IBOM ANAMBRA pic.twitter.com/F1nuohIJw8

— Davido (@davido) February 15, 2022
FCT pic.twitter.com/NnryDtctR1

— Davido (@davido) February 15, 2022
ABIA STATE pic.twitter.com/S6MaDCZCCk

— Davido (@davido) February 15, 2022