Today, I'm monitoring the APC primary election in the State of Osun. Though accreditation have started, but in places visited in Ede and Odo-Otin, party members complained their names have been removed from the party register though they have their member's card
When you hear them speaking confidently of winning today's Osun APC primary by landslide, it is not because they are popular, it is because they have manipulated the process using their position as member of the caretaker committee.
See this video recorded at ward 15 Oyan, Odo-Otin. All these women who are belong to the TOP Caucus of the APC supporting Adeoti have their names removed from the members list. #OsunAPCDecides pic.twitter.com/S0RzLIOfUP

— Kìkìowó Iléowó (@IleowoKikiowo) February 19, 2022
In Ward 2, Oke Amola, Ikirun, Osun State, adamant APC members who are supporters of Alh. Moshood Adeoti despite being beaten and sent away earlier, gathered again to cast their vote. Their names have also been removed from the members register.#OsunAPCDecides pic.twitter.com/5B6bKGnqNh

— Kìkìowó Iléowó (@IleowoKikiowo) February 19, 2022
In Osogbo Ward 5, no primary election taking place. Alh. Moshood Adeoti's poster torn and everybody sent away.
I guess they will also write result for that ward in their sitting room. This is a charade!
I have seen parties rig in the past, but this is on another level. Just check the time stamp on the result. The committee said yesterday that accreditation stops at 12noon and voting can commence. However, 800 people voted in 5mins. This is WRITTEN RESULT!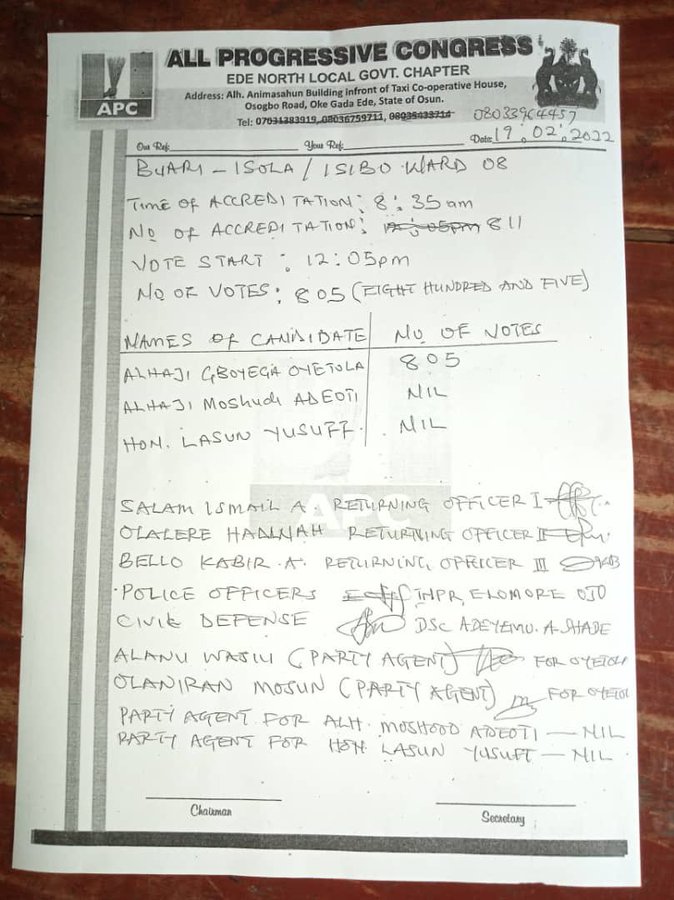 There are currently two factions of the APC in Osun — the Ilerioluwa Group is the faction loyal to @GboyegaOyetola, the governor, while The Osun Progressives (TOP) has the backing of @raufaregbesola, minister of interior and former governor of the state.#OsunAPCDecides2022

— TheCable (@thecableng) February 19, 2022
Although the former deputy speaker of the house of representatives, Lasun Yusuf, is also in the primary race, the contest is widely expected to be between Gboyega Oyetola and Moshood Adeoti, owing to the power of incumbency and federal might, respectively.#OsunAPCDecides2022 pic.twitter.com/KBzXe9CeSg

— TheCable (@thecableng) February 19, 2022
FAMILIAR FOES

Moshood Adeoti is a former SSG in the administration of Rauf Aregbesola.

Gboyega Oyetola, a former chief of staff in the administration of Rauf Aregbesola is now the governor.#OsunAPCDecides2022 pic.twitter.com/lAgBTl3Vlf

— TheCable (@thecableng) February 19, 2022
A VOTER HAS HIS SAY

A party member at ward 7, Aromole, Osogbo LGA, said he is voting for Moshood Adeoti who he described as "Aregbesola's candidate".#OsunAPCDecides2022 pic.twitter.com/bqb1lFFG6k

— TheCable (@thecableng) February 19, 2022
"In a state where there is no peace, there will always be problems. Gboyega should have sued for peace among members. He should not have let the disagreement fester to this point where we have factions in the party," he said.#OsunAPCDecides2022

— TheCable (@thecableng) February 19, 2022
VIDEO: Gboyega Oyetola arrives at his ward. Party members hail him and chant "Ibooooo" (votes) while waving their membership registration forms.#OsunAPCDecides2022 pic.twitter.com/KXh1BTVE6Y

— TheCable (@thecableng) February 19, 2022
VIOLENCE AND ALLEGATIONS

As a result of the events of the last few weeks, there were fears of potential violence — but so far, no such reports yet.

On February 3, gunmen attacked the campaign office of Rauf Aregbesola, minister of interior and former governor of Osun.

— TheCable (@thecableng) February 19, 2022
SPOTTED: OYETOLA ON THE SCENE

Gboyega Oyetola, the Osun state governor fighting for his second term ticket has arrived at his ward, prompting his loyalists to chant "Ibooooo" (votes) while waving their membership registration forms.#OsunAPCDecides2022 pic.twitter.com/0FOgoDsq89

— TheCable (@thecableng) February 19, 2022
Meanwhile, the governor is seated in his vehicle while he awaits the commencement of voting.#OsunAPCDecides2022 pic.twitter.com/oy153I8eI7

— TheCable (@thecableng) February 19, 2022
PARTY AGENTS MISSING IN ACTION

The electoral officer says it is only Oyetola's party agent that is present at Ward 1, Boripe LGA, Iragbiji.

The agents for the other aspirants are unavailable.#OsunAPCDecides2022 pic.twitter.com/MzcjmONw2d

— TheCable (@thecableng) February 19, 2022
AREGBESOLA: AVOID VIOLENCE… LET WOMEN LEAD@raufaregbesola, minister of interior, has called on party members to "avoid any form of violence, brigandage and disorderliness" during the primary.#OsunAPCDecides2022 pic.twitter.com/wXqJlTUbLI

— TheCable (@thecableng) February 19, 2022
The former Osun governor also asked the party members "to push out the women and let them lead the process by coming out decently and peacefully".#OsunAPCDecides2022

— TheCable (@thecableng) February 19, 2022
"This is to demonstrate the customary dignity of women as matriarchs, mothers, wives and daughters, which confers on them the special protection status from violent attacks from thugs and hoodlums," he added.#OsunAPCDecides2022

— TheCable (@thecableng) February 19, 2022
Credit to The Cable, Kìkìowó Iléowó