A lady on twitter has raised a false alarm on twitter that she is being kidnaped and raped, she gave an address as 78 Obayan Street Pako Akoka Lagos and a phone number and cried out for help.
He tweet raised concern on twitter and people started contacting the police and in a swift move, the police go there on time and made some arrest.
But the lady later sent out a tweet and said she made a tweet of her, being kidnapped and raped, which she said it was all false and apologized.
The police were alerted and some officers stormed the location she mentioned. She was however not found on the premises.
According to another Twitter user who visited the scene, it appeared the lady and the guy in question had a "thing". The Twitter user also stated that the police picked up some guys at the address the lady mentioned. She added that some residents of the area claim the lady in question was just chasing clout and that nothing like that happened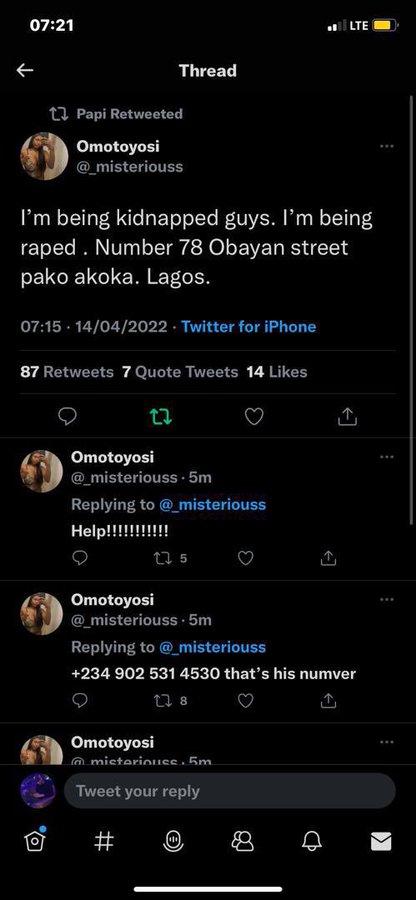 I'm okay 🙏🙏🙏🙏
Please stop threatening or calling the numbers 🙏🙏 pic.twitter.com/Z7zQbmWuKo

— Omotoyosi (@_misteriouss) April 14, 2022
I tweeted earlier that I was kidnapped and raped. It's false. I'm so sorry for this. Please stop calling and threatening the numbers. 🙏🙏🙏🙏

— Omotoyosi (@_misteriouss) April 14, 2022
For those wondering if she's really fine! No she wasn't! Thank goodness the cops are there now! pic.twitter.com/rwaxKYj1LH

— Cyber Security (@nani_wilson) April 14, 2022
There have been mixed reactions on twitter over the alarm she raised and Some Nigerians are saying she should face the law, if indeed it was a false alarm
Read some of the reactions below