Thisweekng examines the top news stories that are dominating the front pages of Nigeria's national newspapers as of this Friday, January 20, 2023.
According to The Guardian The Federal Government discreetly approved an increase in the price of Premium Motor Spirit (PMS), also known as gasoline, yesterday, caving in to marketing pressure for the second time in just seven months.
This Day: Presidential candidate of All Progressives Congress (APC), Bola Tinubu, yesterday, said he would tackle head-on the problem of corruption, if elected president at next month's poll.  Tinubu stated this in Abuja during a consultative forum with the Federation of Construction Industry in Nigeria (FOCI). The APC candidate also said his government would back the establishment of a construction bank.While aiming to eliminate corruption from the Nigerian system, he assured that the government would make conscious efforts to adopt strategies that would attract, rather than scare away, investors
---
The Nation: Oyo State Governor Seyi Makinde and his deputy, Bayo Lawal, yesterday shunned the Peoples Democratic Party (PDP) presidential rally held for the candidate, Atiku Abubakar, and his running mate, Senator Ifeanyi Okowa, in Ibadan, the Oyo State capital. Oyo was the first state controlled by G-5 governors that hosted the PDP presidential campaign train.
---
Daily Trust: Despite a directive by the Central Bank of Nigeria (CBN) to banks to load their Automated Teller Machines (ATMs) with the redesigned naira notes, financial institutions in many states are still giving their customers the old notes, Daily Trust reports.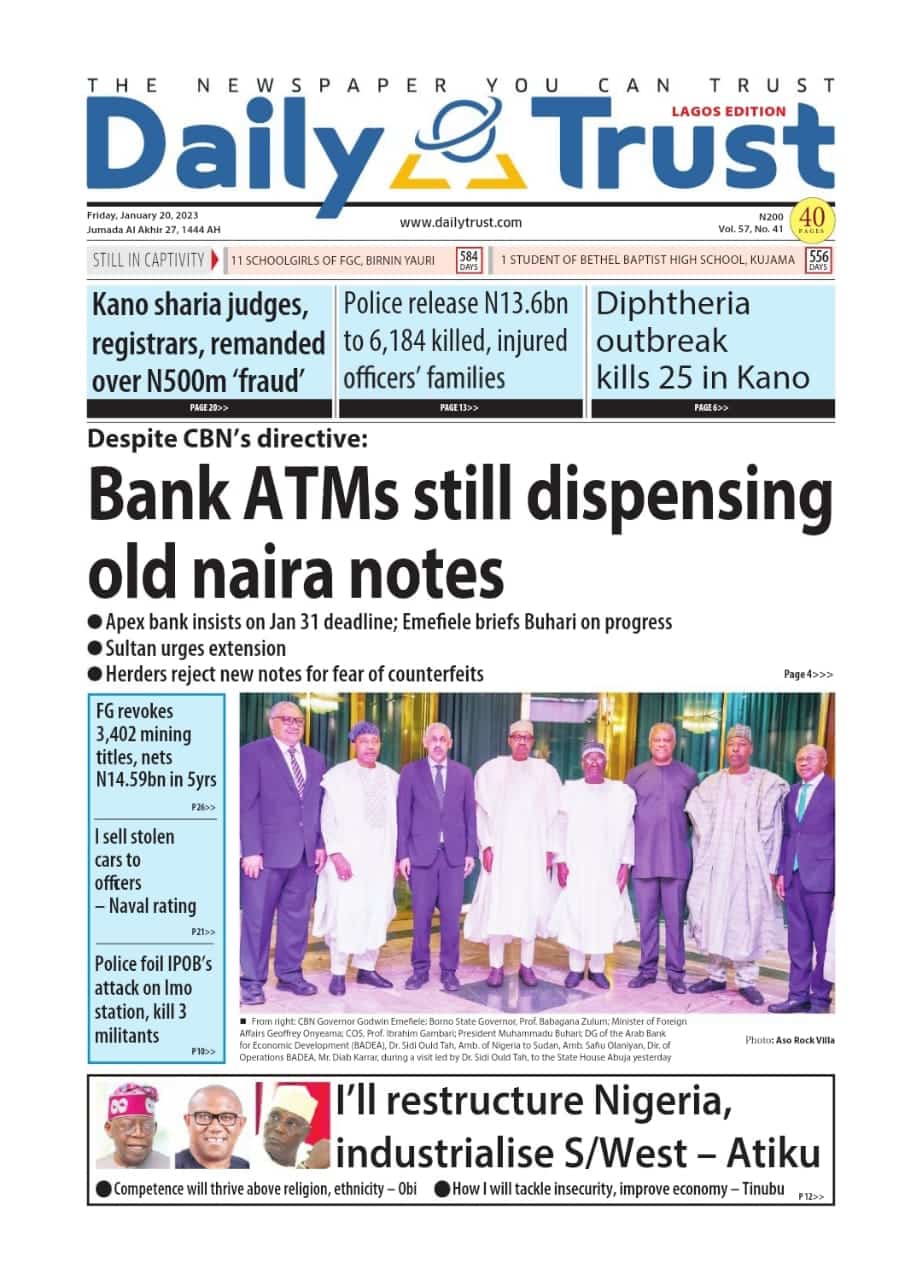 Vanguard: The Federal Government has officially increased the price of petrol by 8.8 per cent to N185 per litre, from N170 per litre. The ex-depot price also shot up from N148 per litre to N167. However, Vanguard's findings show that many filling stations have been selling far above this new price, a situation which may have made the new price almost unrealistic
The PUNCH: The scarcity of Premium Motor Spirit, popularly called petrol, grew worse across the country on Thursday, as massive queues were witnessed in Abuja, Lagos, Port Harcourt, Calabar, Warri, Nasarawa, Minna, among other places. Oil marketers stated that the scarcity became worse due to the fact that dealers could hardly access the product from the only two depots that were dispensing the commodity in Lagos State as of Thursday.