Nigerian journalist Dr Kemi Olunloyo has volunteered to help the Nigerian Drug Law Enforcement Agency NDLEA, in fighting drug war, in the drug education and drug rehabilitation area.
Dr Kemi said that she is an award winning pharmacist and addiction counselor and will show her past various works and commendation letters.
You will recall that NDLEA, have in the recent times arrested some drug barons, and displayed huge drugs that were confiscated by these barons, to the general public.
Dr Kemi took to her twitter handle, to show he past works and recommendations.
Dr kemi said, "As I stated earlier, I will be volunteering my time to help the NDLEA fight the war on drugs in the drug education and drug rehabilitation area. I'm an award winning pharmacist and addiction counselor and will show you my past various works and commendation letters."
This 1997 citation was given to me by Dutch Ruppersberger as a self appointed Spokesperson promoting drug education and prevention in the Maryland suburb #BaltimoreCounty. I came out with my own program visiting schools and communities while working alongside DEA HQ and Baltimore Police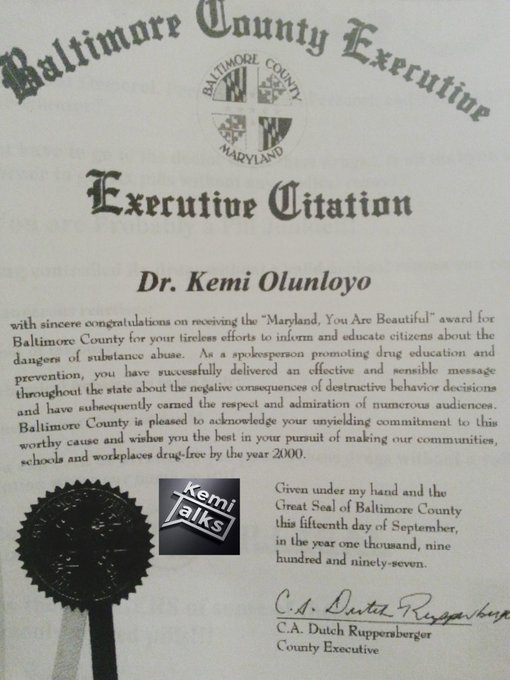 My longtime congressman Ben Cardin, wrote this letter to sponsor my NIW green card visa USCIS because of my exceptional work fighting drug abuse in the most vulnerable population African-Americans. They designated me as an Alien of exceptional ability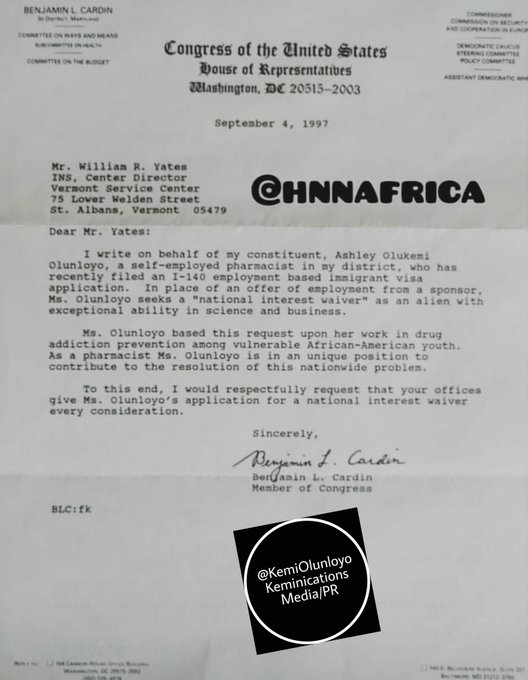 I started Baltimore City Public Schools in 1996 by simply writing Late Dr Walter Amprey the innovative educator and school superintendent who was surprised that there are still good community members like me out there. He gave me access to the schools where I lectured weekly to kids on DRUGS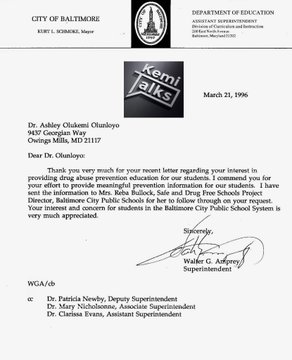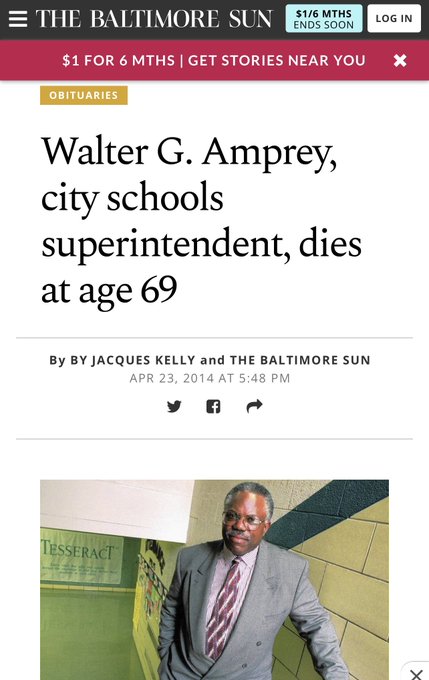 I contacted BET a black entertainment network in 🇺🇸 to appear on #TeenSummit their daily LIVE discussion show for teenagers after school to speak against the horrific 90's drug abuse epidemic and help get kids to rehabilitation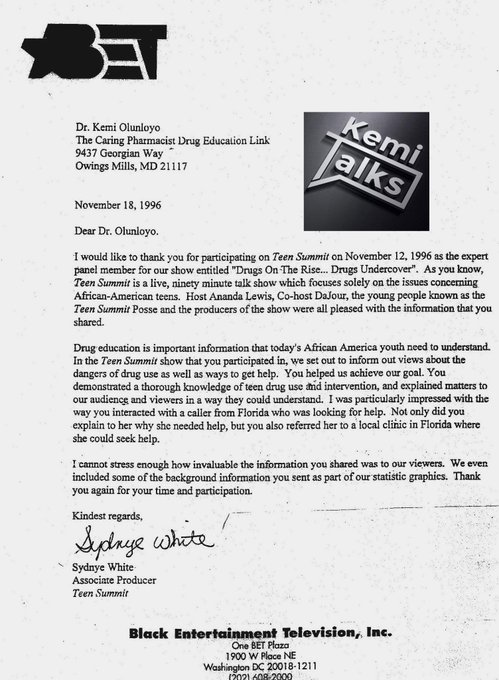 Here are some thank you letters from schools and community organizations including police councils in Baltimore, 🇺🇸 in 1997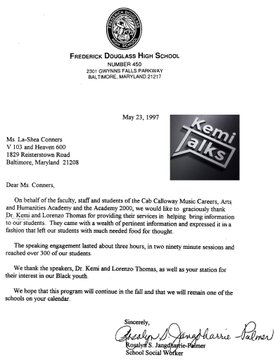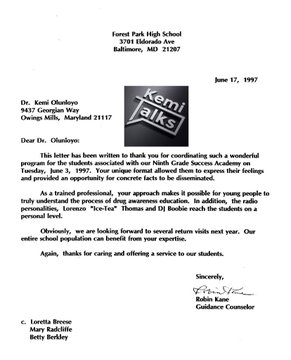 A letter from the State Comptroller of Treasury Late Louis Goldstein congratulating me on the award for "Maryland 🇺🇸Most Beautiful Volunteer Award" for my work on Drug abuse prevention. Governor Glendenning honored me at the State House with that plaque 1997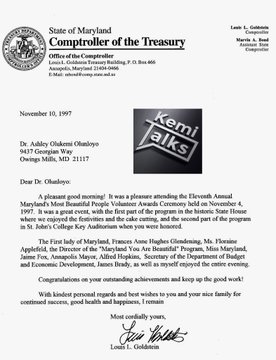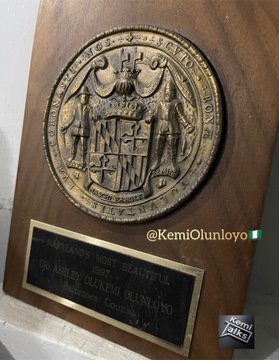 The largest drug store in America my longtime employer CVS Pharmacy honored me for all my community work.
Department of juvenile justice called me in to mentor very underage high risk kids many in juvenile prisons for various crimes. Also Univ. of Maryland Baltimore County called me and a popular OAP to come talk to University students about DRUG PREVENTION.
I produced an award winning video titled "Yes You can raise a child drug free" under my awareness program PediatRX. Canada's National Post newspaper spoke to me about how to be in a strong community. You have to be part of that community.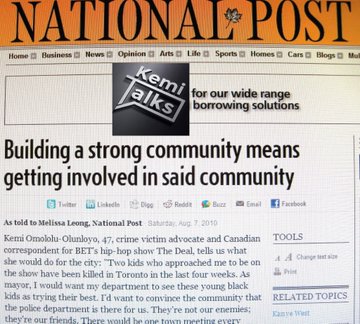 Baltimore Mayor Kurt Schmoke gave me ACCESS to volunteer in the school district. It was all a success in addition to the BELIEVE CAMPAIGN. Then tragedy struck 2002. The Dawson family was MURDERED.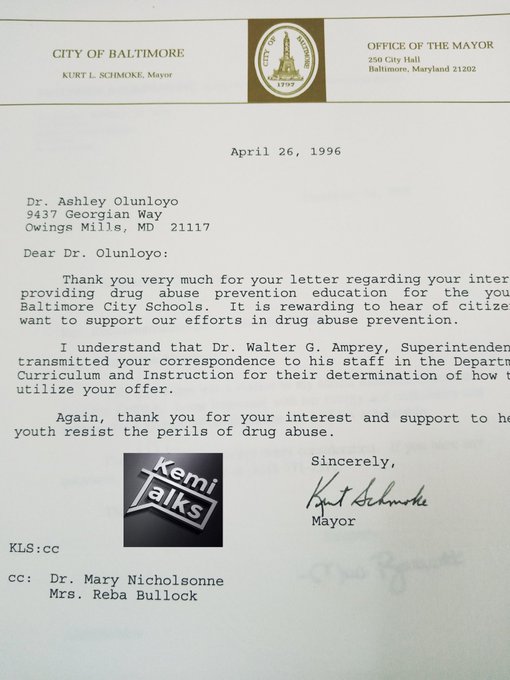 Source: Dr Kemi's Twitter handle